Meet Our Talented Team!
REHABILITATION & FITNESS INNOVATORS
Since 1996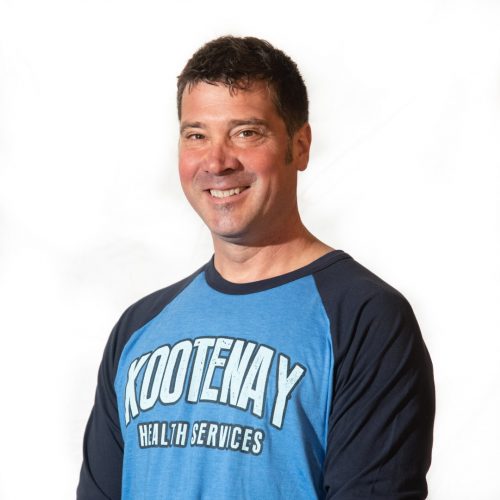 Craig graduated from the University of Alberta with a BSc in Physical Therapy in 1996. For the next five years he mentored under Erl Pettman in Mission, BC and became a Fellow of the Canadian Academy of Manipulative Physiotherapists (FCAMPT) in 2000, shortly after moving to Nelson. Craig also completed post graduate training in Intra-muscular Stimulation (CGIMS) with Dr. Chan Gunn (2010) and a Certification in Hand Therapy (2013). He has completed continuing education in Vestibular Rehabilitation/Dizziness and Concussion management, corrective exercise prescription (FMS/SFMA), the Progresive Goal Attainment Program (PGAP) and in breath retraining/capnography.
Craig has mentored Physical Therapists and students; and, has volunteered with the Orthopaedic Division of the CPA (2000-04) and was on the Board of Directors of the Physiotherapy Association of BC, where he also Chaired a Rural and Remote Committee (2012-16).
Craig competed at a Provincial level in multiple sports and Nationally in track and field. He was an All-Canadian in Track in Field (1993) in University. Craig continues to run for recreation; and, more commonly will be found mountain biking and ski touring (or trying to keep up to his four kids on the hill).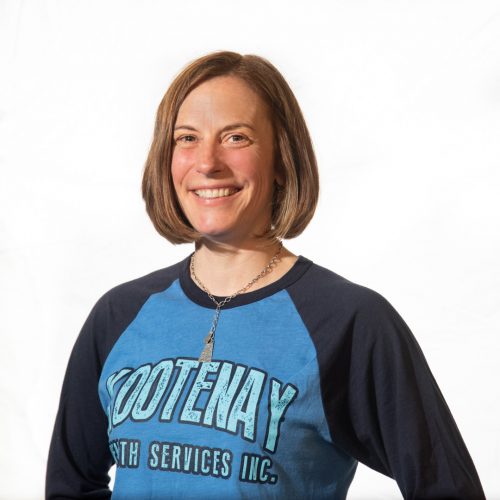 Robyn is passionate about helping others take positive action every day toward physical and mental health. Co-owner of the clinic, Robyn has worked as a kinesiologist, vocational professional, instructor, and workshop presenter in the field of health, fitness and rehabilitation since 1995. In that time, she has played a part in hundreds of individual stories of rehabilitation and recovery across the Kootenays and Canada.
From a young age, Robyn competed in high-level sports including track and field, cross-country running, and cross-country skiing. Robyn has extensive experience working with a variety of athletes as well as with occupational performance training and testing. Robyn's assessment, programming, and rehabilitation intervention offers individuals the opportunity to gain, maintain, and improve upon their athletic and functional abilities.
While at work, she can often be found turning the music dial in the gym to some good 80's Rock. At home and in the community she can be found skiing, hiking, running, and biking with her kids, her husband and the family Russian Spaniel, Ash, in tow!
Robyn holds the following designations: Registered Kinesiologist, Master's Certificate, Vocational Professional, PGAP Clinician, PGAP-Tel Clinician, Medical Exercise Specialist, Crossfit Level 1 Trainer, Crossfit Kids Trainer, and Crossfit Movement and Mobility Trainer, FMS certified exercise professional Level 2, Fundamental Capacity Screen Certified, MovNat Level 2 instructor, Olympic Weightlifting NCCP Level 1, Y-Balance Test Evaluator, Certified EPIC lift capacity evaluator, Strongfirst Level 1 Kettlebell Instructor.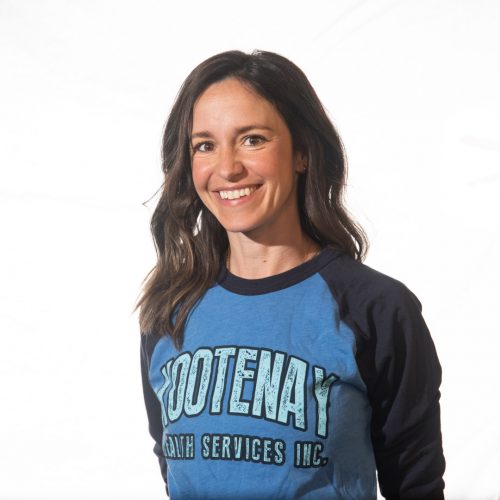 Robyn was born and raised in Nelson BC. She joined the KHS team in 2015 when she returned to Nelson after living away to pursue University and travel.
She likes being a part of a group whose goal is to help people achieve better health and wellness.
Robyn passion for exercise has taken a side seat to raising her young daughter. She loves exploring the outdoors with her family and taking in all the many things the Kootenays has to offer.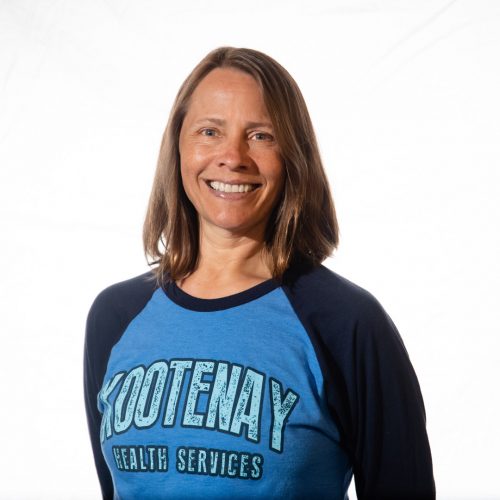 Rita joined the Kootenay Health Services team in 2007 after moving back to Nelson from Vancouver Island. She enjoys being a part of this great group of practitioners and feels they provide an important service to the city of Nelson and surrounding communities. Rita helps to keep the office running smoothly and efficiently, and is also responsible for doing the bookkeeping. In her spare time she likes to hang out with her family, and ride her mountain bike on the great trails in the mountains around Nelson.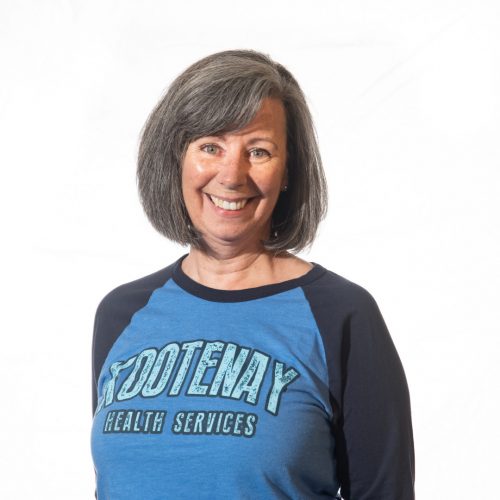 Sally first joined the Kootenay Health Services team in 2003 and after taking a few years off, she found she couldn't stay away from the fun and returned in 2011. Come into the office and you'll find Sal's smiling face behind the front desk, where she makes sure that clients get connected to the right services from KHS' professional practitioners when they need them most.
When she's not at the office she can be found on the slopes with her family, or discussing the qualities of a good bottle of wine, or, a great book, with her book club.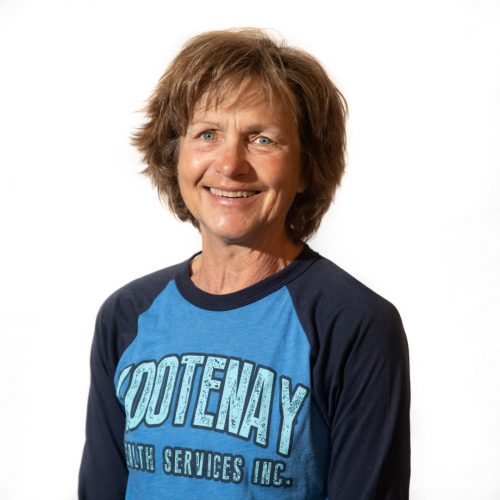 Dr Kyle is a fellowship trained sport and exercise medicine physician with expertise and
experience in sport injury assessment, diagnosis and treatment, performance athletics
and injury prevention strategies through physical activity. She has extensive experience
in this capacity from working with professional, national and Olympic athletes as well as with people of all types of athletic backgrounds and abilities.
With expertise in acute sport injury, overuse injury management, optimizing
performance and injury prevention; she is well versed in current management of these
conditions and continues to evaluate new evidence-based treatments.
Bridging treatment with physiotherapists, kinesiologists, occupational therapists, athletic therapists, chiropractors and other skilled health care professionals as well as other physicians provides optimal multidisciplinary care for you. Your family physician remains the cornerstone of your care coordination and every effort is taken to keep your family physician involved in your care.
She has experience in specialized areas of athlete care, including:
• Non-operative management of sport injuries
• Overuse injuries
• Acute injury diagnosis and management
• High performance athletics
• Stress fractures
• Concussions
• Exercise in pregnancy
• Female athlete triad
• Aging athletes
• Team sport health and performance concerns
• Pre-participation physical exams
• Return-to-play decisions
Appointments Dr. Sharisse Kyle requires a referral from your family doctor or another
physician, and the fees for most services are covered under the Medical Services Plan
(MSP).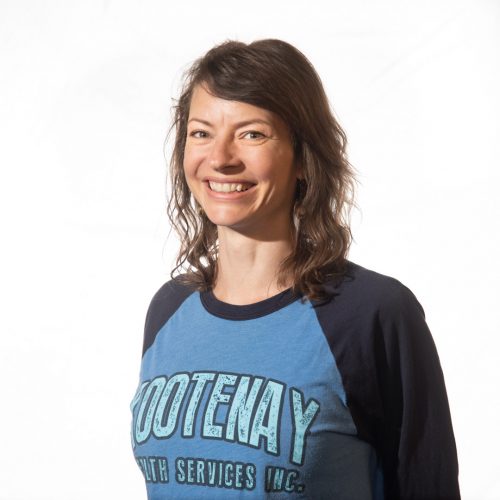 After finishing her Bachelor of Arts psychology degree at UBC in 2005, Karin spent an immensely rewarding five years supporting individuals with physical and developmental challenges in a variety of settings. Along the way she was inspired by occupational therapists (OTs) that used client-centered and evidence-based approaches to understanding and supporting clients – thus began her pursuit of a higher education. She is now a registered OT (UBC master of OT graduate) with experience in acute care, mental health, community outreach, paediatric, occupational rehabilitation and stroke rehabilitation settings. She believes that participation in one's chosen activities is vital to health and well-being and is thrilled to be part of the KHS team! In her spare time she loves to socialize, dance, create, and get outside as much as possible to enjoy beautiful Kootenay experiences on the mountains and waters.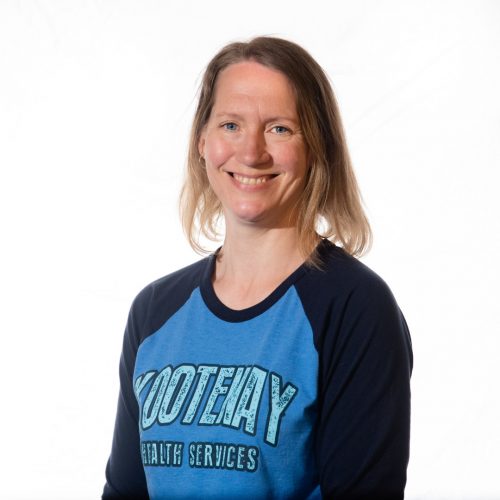 Shannon incorporates her skills and experience in manual therapy and IMS, together with patient education and exercise prescription to provide a one-on-one, client-centered approach in her treatment sessions. Shannon completed her physiotherapy degree from the University of British Columbia in 1999. She completed her Diploma in Advanced Manual and Manipulative Therapy ('Part 'B') in 2005. Shannon also completed her training to practice the Chan Gunn method of Intramuscular needling (CGIMS, 2004). Shannon worked in orthopaedic and sports clinics in Victoria until she could not be away from the great skiing and mountain biking of Nelson any longer. Shannon is happy to be part of the Kootenay Health Services team.
Shannon loves to stay active outside with mountain biking, running, hiking and skiing, when she isn't chasing her three kids or teaching them activities to enjoy outside.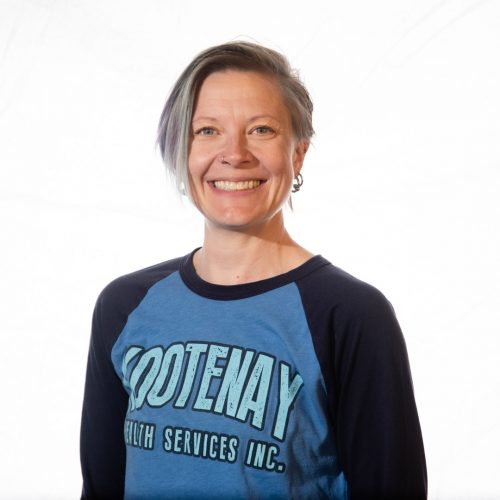 Jen McNutt grew up in Calgary, Alberta where she was very active in figure skating, gymnastics, snowboarding, hiking and running. She completed her Masters in Physiotherapy at the University of Alberta in 2009, after which she moved to Nelson, BC to start a career and family. Jen is committed to enhancing the overall physical health, fitness and quality of life of her clients through one-on-one, individualized physical therapy programs focused on a client's goals. She is a life-long learner and continues to expand her knowledge base. Over the last decade, she has completed courses in muscle mobilization, Orthopaedic Manual and Manipulative physical therapy, GunnIMS, and functional movement. She has also completed her certification in Hand Therapy. Most recently, Jen has embarked on pursuing education in pelvic floor therapy and has completed courses in urinary incontinence.
In her life outside of Kootenay Health, Jen also does canine physiotherapy. Additionally, she loves to spend time hiking with her family and dogs, trail running, figure skating, snowboarding and discovering all the beauty the Kootenays has to offer.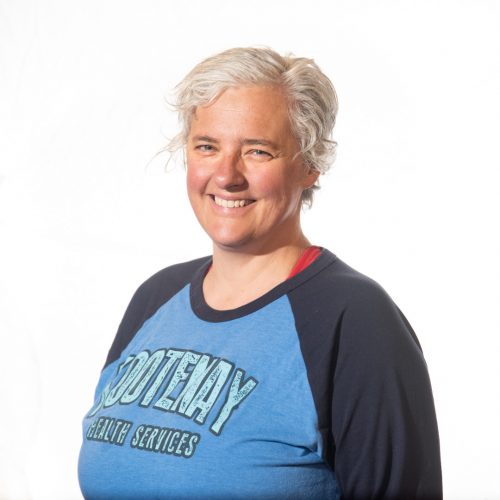 Jane Byers has been an ergonomist since the mid-1990's. She is a full member of the Association of Canadian Ergonomists as well as the Vocational Rehabilitation Association. She competed her Bachelor of Science in Kinesiology (Hon) in 1990. She has prevented injuries and facilitated return to work with firefighters and construction labourers, truck drivers and office clerks. She is focused on injury prevention through ergonomic design and fostering resilience in workers with disabilities. Jane is passionate about her family and writing poetry. She loves hiking, road cycling and Nordic skiing.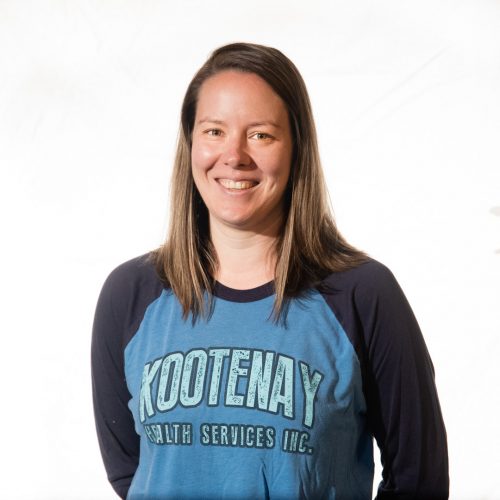 Emma Haley was born and raised in Nelson, B.C. After graduating from L.V. Rogers's high school, she attended Selkirk College for two years before moving to Vancouver to finish her undergraduate degree in Human Kinetics at the University of British Columbia. She then went on to achieve a graduate degree in Occupational Therapy from Queen's University in Kingston, Ontario. Since graduating with her MSc. OT, Emma has been working in private practice since 2015. Emma is committed to providing client-centred care and believes that education and building self-management strategies are key components to a client's recovery from illness or injury. Emma was drawn to Occupational Therapy largely in part because of the holistic approach taken to restoring client's function and increasing independence in daily activities through evidence-based practice.
Emma's practice interests include cognitive assessment and intervention, musculoskeletal rehabilitation, mental health, return to work, functional and cognitive capacity evaluations, cost of future care, medical-legal and concussion management. Emma is committed to professional growth and continuing education in order to provide the most relevant treatments to her clients and feels fornature to be a part of an innovative and forward thinking team of clinicians at KHS.
Emma is passionate about skiing, paddle boarding, travelling, hiking, running and gardening. She loves laughing with her fiance and spending time with her two cats.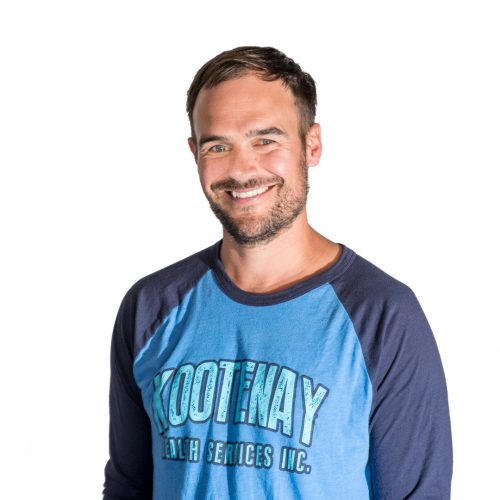 Justin grew up in Nelson. Here he gained an interest in sports including skiing, hiking and especially hockey. His interest in the body and mind lead him to an undergraduate degree in Kinesiology & Psychology. Justin furthered his education by attending UBC in Vancouver where he completed a Masters degree in Physiotherapy.
He has a passion to work with athletes, to be in the mountains, and to travel the world. These interests lead to him to a position with Alpine Canada as the head physiotherapist for the technical team where he worked for two years. The job involved travelling the Alpine World Cup circuit and working with Olympic athletes around the globe. He also worked with Hockey Canada in such tournaments as the Deutschland Cup, with trackside treatment for the Olympic bobsled team as well as, with professional and national level athletes including national wrestlers, luge athletes and sledge hockey players to help them to return to full function post injury. Prior to moving back to Nelson, Justin worked in the private sector assisting all demographics with acute as, well as, chronic ailments.
Over the last 8 years Justin has taken numerous postgraduate courses in acupuncture, intramuscular stimulation (IMS) and manual therapy and utilizes these techniques on a daily basis. His rehabilitation plans have a strong base in exercise science and client education, with all client populations. Justin has also taken an interest in working with people affected by concussions with related injuries and with vestibular dysfunction. Recently he has taken numerous courses in both areas of practice.
He is very excited to be back in Nelson with his wife, Natalie, and two beautiful sons. It took leaving Nelson to realize that it can't be beat!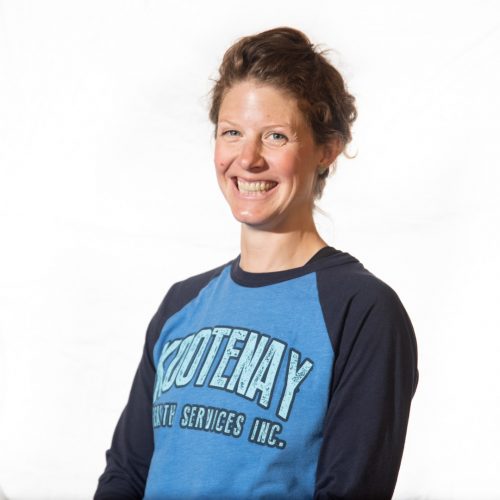 Devon was heavily influenced to pursue a career in health and fitness by her love of running cross country and track in high school. She graduated with a Bachelor of Kinesiology degree in 2005 and has since worked in numerous capacities. She started as a brace fitter and orthotic technician in Vancouver. After a move took her to Victoria, she pursued personal training and soon settled into the kinesiology role. Charmed by the Kootenay lifestyle, Devon moved to Nelson in 2013. She has since worked with clients in occupational rehabilitation programs, injury rehabilitation, and fitness assessment. With a focus on correcting biomechanics, injury prevention, and functional fitness, Devon loves working one-on-one with clients and has motivated many to great results.
Devon joined Kootenay Health Services in 2018. As a kinesiologist, she provides exercise programming and education for the Worksafe Occupational Rehabilitation program, which operates at the clinic. Devon also offers private kinesiology sessions, guided by the Functional Movement Screen (FMS) and corrective exercises. Breathwork, Movnat and Strongfirst kettlebell disciplines strongly influence her programming.
Devon currently uses kettlebells to strength train and keep up with her two little girls. She and her family are passionate about nutrition and enjoy reaping the nutrient dense foods they grow in their garden. Devon also loves knitting, sewing, sunshine and her Bengal cat.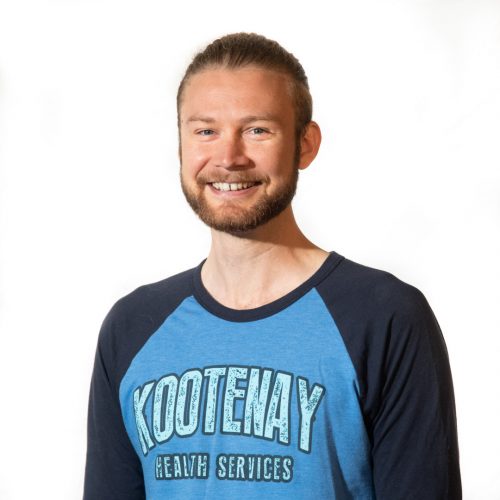 Nicolas grew up in St-Malo, a small town south of Winnipeg, Manitoba. While growing up, he regularly saw Massage Therapists as he was very active in the dancing community.
Ukrainian dance, Ballet, Ballroom, Latin, and Swing were styles he practiced and required many visits to his practitioners. It was due to these appointments which inspired him to follow a career in Massage Therapy. He truly believed in their many benefits.
In the spring of 2013, Nicolas finished a Bachelor of Science at the University of Manitoba. He then moved to Vernon for the Massage Therapy program at the Okanagan Valley College of Massage Therapy. Having become an RMT, he is now able to utilize his skills of treatment, as well as his knowledge of body movement, to help his clients move pain-free.
During your treatment, Nicolas utilizes Myofascial Release Techniques, Joint Mobilizations, Trigger point release therapy, Visceral manipulations(working on organs), Cranial Sacral techniques, and Deep Tissue techniques.
A self-care plan is also given to help continue the progress at home, understanding that the most effective therapy is a team effort.
In addition to working in a clinic, Nicolas also loves to teach. He has taught dancing for many years, and taught at the Okanagan Valley College of Massage Therapy for two years.
In 2018, he joined the teaching staff at the Kootenay Columbia College of Integrative Health Sciences as an instructor for the RMT program and as a supervisor for the clinic.
He looks forward to working with you to develop a pain-free state of health.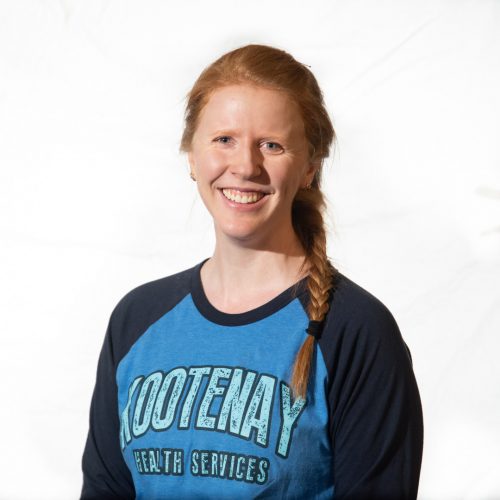 Hannah grew up in Summerland and Victoria, BC, where she developed a passion for being outdoors through backpacking and rowing. In 2014 she graduated with a Bachelors of Science in Human Kinetics from the University of Guelph, then took a year off to travel and hike in New Zealand. She completed her Masters of Science in Occupational Therapy at the University of Alberta in 2017.
After graduation, Hannah moved to Kamloops where she worked in community mental health and substance use services, as well as in tertiary psychiatric care. She has completed additional training in motivational interviewing, concussion management, suicide intervention skills, and Cognitive Behavioural Therapy. She is passionate about the integration of mental and physical health practices to enable clients to engage in meaningful daily occupations. Hannah is delighted to be working with the team at Kootenay Health Services to assist in providing quality and holistic health care services to individuals on their recovery journey.
In her spare time, Hannah spends her time rock climbing, mountain biking, skiing, knitting, and trying to pet as many dogs as possible!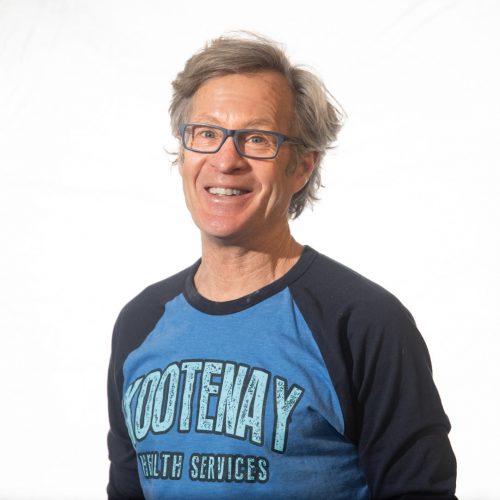 Michael has been teaching indoor cycling since 2010. Along with a passion for riding he has CCA Certification in Triathlon, Trampoline, Basketball, and Freestyle Skiing (when you meet him ask about the Basketball!) His sporting background is in winter sports where he competed at the World Cup level in Freestyle skiing. Yes he was actually part of the early "hotdog days". Michael has also raced in the Amateur Canadian National also Championships, and the World Masters Games in cycling. In triathlon, he represented Canada at multiple distances in the International Triathlon Union World Championships.
"One of the things I really enjoy is working with participants of all ages and ability levels, just come with an open mind and try your best." Michael aims to provide a fun, open atmosphere in class while ensuring that everyone "gets their sweat on!" Themed playlists are the order of the day on significant holidays and you may even get a bit of music trivia as well. Michael retired from a career in the radio business 3 years ago. He and his wife, who is originally from the Kootenays, moved here from Calgary in 2019. They are loving the amazing lifestyle that Nelson provides.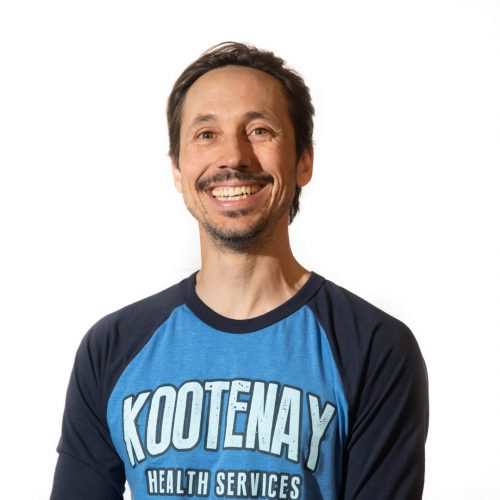 Travis Hauck is a dedicated cyclist whose passion for the sport and multiple achievements have given him international recognition. When he's not participating in events, Travis trains hard and likes hanging out in the "pain cave". Don't be intimidated by his personal pleasures. He's a friendly guy who is excited to motivate and inspire people during spin class.
Adding to Travis's credibility he instructs mountain biking in the summer, cross country skiing in the winter and is a RAD Dad all year round!
"The reward for hard work is…more hard work"
~ Grandfather Dickson.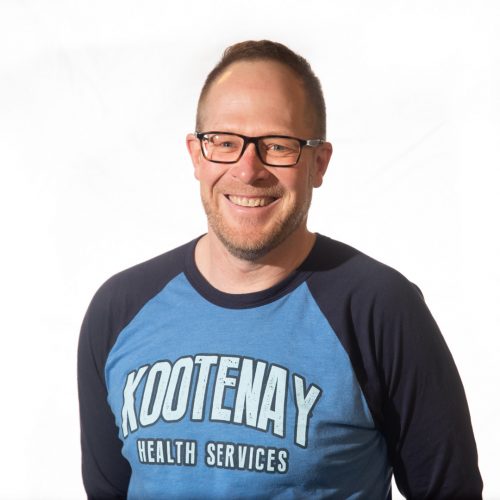 Jaime Frederick is an avid road cyclist and amateur endurance athlete with a lifetime of cycling experience. Over the last several years, he has completed numerous one-day rides of more than 200km, many century rides (162km), and even an "Everest" (8,848 m of elevation gain in one ride). He has also completed long-distance bike tours in Canada, the U.S. and Italy. On the spin bike, he likes big beats, tough climbs and all-out sprints. Jaime enjoys motivating riders to be their best and helping them achieve their health and fitness goals. He lives in Nelson, where he loves to be outdoors with his family, exploring all the splendour the Kootenays offer.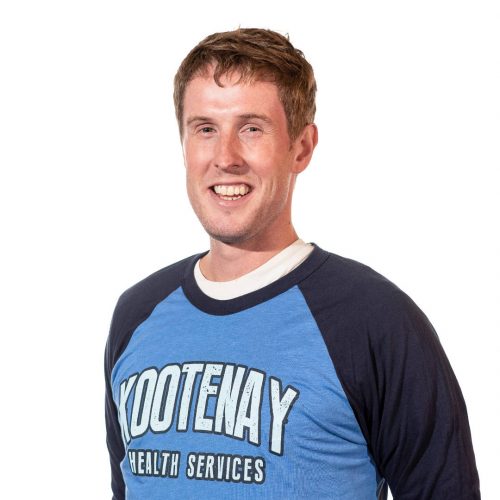 Dave is a sports medicine physician newly moved to the area from the UK where he had been working in elite and international level rugby in the Pro 14 as team physician for Cardiff Blues and the Wales Rugby Union (WRU) for the Wales U18 squad. In addition, Dave spent his time working in sports medicine clinics for the Military of Defence. He has a background as a trained physiotherapist (University of Southampton) prior to attending medical school (Cardiff University). He has since completed postgraduate studies in Sport and Exercise Medicine obtaining his DipSEM (UK). Dave has a keen interest in overuse injuries. He provides assessment, diagnosis and intervention (including corticosteroid and viscosupplementation where appropriate) as well as utilising ultrasound for musculoskeletal problems.
Outside of work he is a keen footballer (soccer), skier and enjoys spending time with his young family!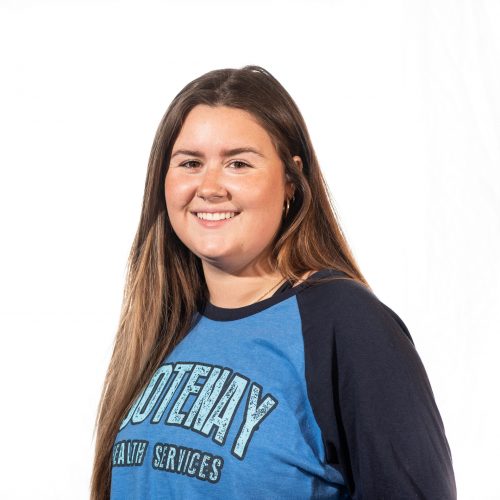 Lauren grew up in the vibrant town of Stratford, Ontario and chose to pursue a career as a Registered Massage Therapist. She studied at ICT Kikkawa College in Toronto, where she gained evidence-based knowledge and skills in various massage modalities. Not long after graduating the program, she decided to relocate to the Kootenays to enjoy all the beauty the area has to offer.
She strongly believes in a client centred practice where together you create the best treatment plan to suit your needs, whether it's to reduce pain, injury, help regain mobility or to relax your mind and body.
Lauren is trained in a range of therapeutic massage techniques such as Swedish massage, joint mobilization, myofacial release and trigger point therapy. She believes in the power of intuitive and intentional touch as a crucial part of wellness, and knows that massage therapy is a key element in overall health.
In Lauren's spare time she enjoys exploring her new surroundings, practicing yoga and meditation, spending time with friends, paddle boarding and more. She looks forward to helping you achieve your wellness goals and getting on a path to rehabilitation.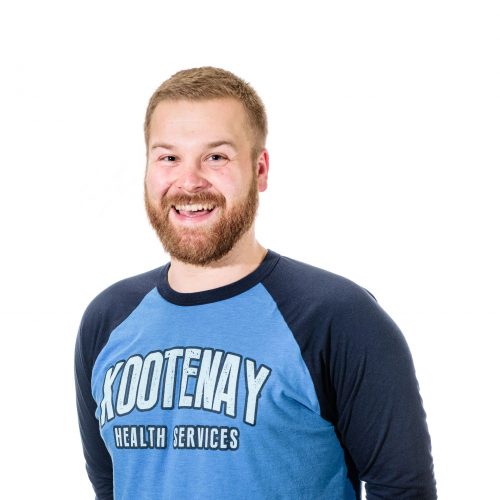 Born and raised in Nelson BC, Logan moved to Victoria BC in 2015 to pursue his degree in athletic therapy, his early career and to enjoy what the West Coast has to offer! Now returning to his hometown and his roots, Logan is excited to bring his expertise and enthusiasm of athletic therapy and movement back to his community and helping people get back to what they enjoy to do!
Attending Camosun College, Logan has received his Bachelor's of Athletic and Exercise Therapy (BAET), is a Certified Athletic Therapist by the Canadian Athletic Therapy Association, a Canadian Red Cross - Certified First Responder and a holds a certificate in the Reconditioning Level 1 course.
Believing in the philosophy of "an ounce of prevention is worth a pound of cure", Logan is dedicated to carefully listening to his clients, providing a skilled in-depth assessment, discovering the core of the problem, and working together through exercise, manual therapy techniques, and kinesthetic awareness to help prevent a recurrence of clients injuries from happening again in the future.
Logan has worked with a variety of sport and health programs including:
• Ozmosis Wellness Inc - Athletic Therapy and Sports Injury Clinic
• St. Michaels University School - Fitness and Weights Coach / High School Sports Programs
• The AET Clinic at Camosun College and the Sport Injury Clinic at the University of Victoria
• Co-Facilitator of the HATTRICK Program in 2018 - a men's health and fitness initiative that formed part of a research project by UBC Okanagan
• University of Victoria Men's Rugby Teams - Reserve, Division 1, and Premier Leagues
• TransRockies Single Track 6 Mountain Bike Series - Medical Volunteer 2017 / 2018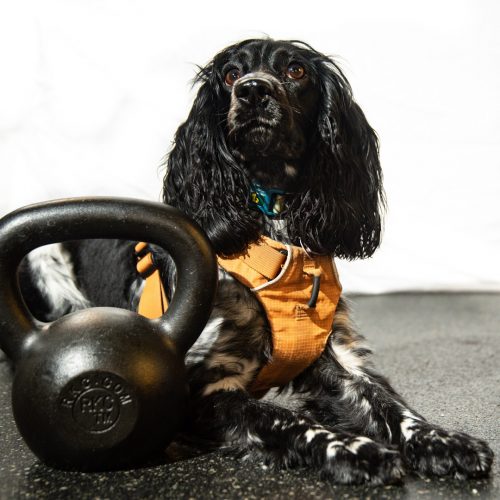 Ash is a spunky member of the KHS team! She is full of energy and always ready for a good time! Her favorite activity is running through the forest trails with her family! She can also be found curled up by a roaring fire after a full day of romping in the snow!
What People Are Saying
"I love Kootenay Health Services workout classes! The classes are small so I get a lot of attention and care. The instructors are knowledgable and fun. I always feel appreciated and welcome- never intimidated or taken for granted."

Jody Deverney
"We are so fortunate to have Kootenay Health Services in Nelson. Whether I'm going for physiotherapy, massage therapy, spin or kettlebell classes, I'm always treated with respect and appreciation. This is a multi-service clinic like none other.

Robyn and Craig's vision of their clinic is a reflection of the passion they have for healing their clients in a welcoming and unintimidating space."

Cheryl Côté
"KHS!
Thank you for the support leading up to and during the biggest cycling season of my life.
Your work out programs along with the physiotherapy taught me so much more about myself and my fitness. Between strengthening and recovering you guys rocked it. I have never felt so balanced and strong in the 10 years of my competitive racing. The KHS team kicks ass and the facility is top of the line, it is an honour to be a part of the team!"

Travis Hauck